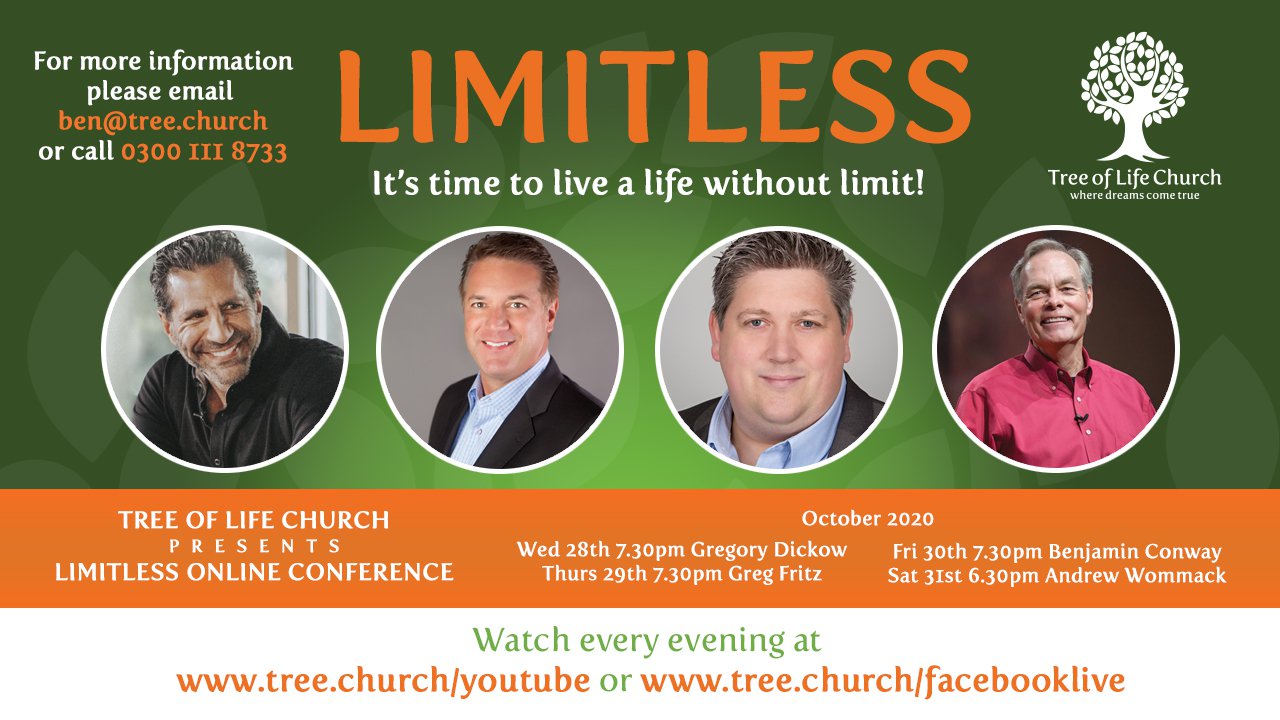 IT'S TIME FOR YOU TO LIVE A LIFE WITHOUT LIMITS!
Why Limitless Online Conference?
(A personal note from host pastor Benjamin Conway)
Throughout the summer I have been opening my emails day after day and hearing about Christian conference after conference being cancelled across the United Kingdom. I know there are a whole host of restrictions and these are strange times, but there is always another way to get something done if you really want it done and see the benefits and rewards of it and take your eyes off the difficulties.
As Christians, we are designed to overcome, to succeed, to have a life without limits. We are not supposed to be drawing back, we are supposed to be marching forward! We already proved this at Tree of Life when we held our summer family conference online this August during the lockdown. Maybe it was not ideal, I missed seeing everyone, I missed laying hands on the sick, I missed taking our guest speakers out for curry night or fish and chips - but despite all the changes, that conference this summer was absolutely life changing! (You can watch that conference here). So, as I am seeing the number of Christian conferences go down and down and down, I felt provoked in my spirit that someone should hold a conference for the UK designed on taking the limits off of God, taking the limits off ourself and getting ready to dream big. I was dreaming of a conference that could help a day-old Christian and a decades-in-the-ministry pastor to grow! A conference for everyone, that inspires us and challenges us. As I was praying about this, the Limitless Online Conference was birthed in my heart.
It's simply four services across four evenings, with some of the biggest dreamers I know. These are people who have learned not to let fear, or peer pressure, or tradition limit God or limit them. They are people who are walking in the midst of their dreams and who have a track record of seeing big, wide doors open for them, and have a track record of inspiring others to dream big. And I include myself in that list, since lockdown began, Tree of Life Family has expanded like never before. Our TV ministry is now global, with a potention audience of 1.4 billion, we are re-opening our churches, opening new churches and inspiring and challenging more people than we ever have. These are great times! And this conference is going to do nothing but inspire you further, make you dream further, and help you stand on the shoulders of giants to see further than you ever have before!
PRAISE AND WORSHIP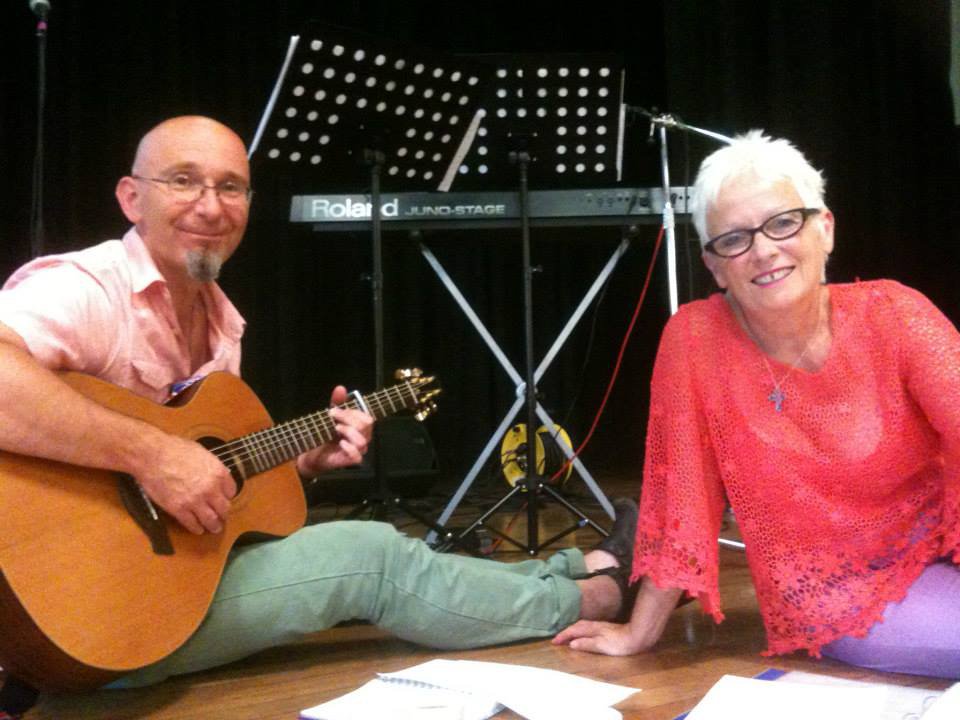 Our worship every night will be lead by Chris and Von Laughlin. Chris and Von are Christian songwriters/musicians based in East Suffolk, UK.
They have been using their musical talents together since they met and married some 22 years ago. Their story speaks of the Grace and Kindness of God, and is interspersed with original songs written from their experiences "along the way". Their joy and sense of fun is contagious and their delivery is natural and very real.
Their message is one of faith and gratitude – oh, and they're mildly entertaining too! Audience participation is always actively encouraged!
They are part of and Worship Pastors with the Tree of Life Network of Churches in ​Dagenham, Watford, Guildford, Brentwood, Croydon and Cambridge.
OUR SPEAKERS
Our four speakers all have many years of experience undoing the limits of life and living a great big life in the sight of our great big God. You are going to hear messages that are going to stretch you to a new level!
Gregory Dickow. For over twenty-five years, Gregory Dickow has helped millions of people find healing, hope, and transformation through the love and grace of Jesus Christ. His revolutionary breakthrough teaching, Fast from Wrong Thinking,has become a global movement, bringing effortless change and miracles. As founder and senior pastor, he has led the multi-site Life Changers International Church into a worldwide ministry through online streaming and television. As a prolific author and conference speaker, Gregory Dickow is leading a hurting generation into emotional health and healing. He created Chicago's top-ranked Christian talk show, Ask the Pastor, and hosts the popular television program, Power to Change Today, reaching millions of households worldwide.
Greg Fritz. Greg Fritz has been spreading the Good News of the gospel for over 35 years, traveling literally millions of miles in the United States and abroad. His travels include life-changing ministry in over 25 nations of the world, emphasizing grace, faith and revival! Greg Fritz Ministries has shared the message of Jesus to thousands through his teaching materials. He ministers regularly in churches, Bible schools, seminars, camp meetings, healing rallies, leadership conferences, overseas outreaches and through his new show, Good News, which airs Monday – Friday on GospelTruth.TV. Greg is a graduate of Rhema Bible Training Center and lives in Tulsa, Oklahoma with his wife Carol.
Benjamin Conway. Benjamin and Amanda Conway are the lead pastors of the Tree of Life Family, a growing network of growing churches based in Dagenham, Essex, where they have been the lead pastors for eight years now. After becoming born again following an open vision of heaven in 1993, Benjamin quit his university course in Scotland and moved to Cheshire to begin Bible College. After many years as a travelling healing evangelist, being a youth pastor, and teaching at several Bible Colleges, Benjamin was called by the Lord to move to Dagenham and pioneer a new church, a church full of the Word, full of the Spirit, full of the nations, and filled with love. Under Ben and Amanda's leadership, the Tree of Life Family has grown from meeting in their living room to meeting in a local cinema, having hundreds of people each week meeting across their many church plants and Grace Gatherings across the United Kingdom. In addition, Benjamin has one of the largest and fastest growing television ministries in Europe. Benjamin's heart-beat is that no one is more than an hours' drive away from a Tree of Life Church. Amanda's heart-beat is that everyone in the United Kingdom hears the pure gospel of the Lord Jesus Christ and is given a chance to respond. Benjamin is in high demand across the world to help build local churches and preach the uncompromising gospel of the grace of God and heal the sick.
Andrew Wommack. Since 1968, Andrew Wommack has taught God's Word with clarity and simplicity, emphasizing the unconditional love and grace of God. His vision is to spread the Gospel as far and deep as possible through his daily Gospel Truth television and radio programs, broadcast nationally and internationally, as well as through GospelTruth.tv, his internet television network. Andrew founded Charis Bible College in 1994 and has established more than sixty Charis campuses in cities across America and around the world. He has authored dozens of books, many of which have been translated into foreign languages. Much of his extensive library of materials is available free of charge at awmi.net. Andrew has been married to his wife, Jamie, since 1972. They have two sons and one granddaughter.
SESSIONS
Enable us to run the smoothest, best conference ever by investing in it right now. We believe that as you give your best to God, He will always give to you pressed down, shaken together and running over!